In the wake of the Great East Japan Earthquake, even at the most dreadful and chaotic of times, the Self Defense Force officers couldn't ignore the photographs and albums that they saw among the debris. Despite being peripheral objects, they were symbolic of the lives of those affected by the disaster. Many of us were touched by the scenes we witnessed on television as local people, having returned to their homes after the flood warning was lifted, searched first and foremost for their photographs among the debris.

Fujifilm has long been committed to the evolution of photography, and as we observed how photographs — our products — offered comfort to those in need, we felt the need to consider:

Naturally, we all began to reflect on that question.
Shortly after the earthquake we began to receive inquiries as to how to remove mud from photographs. The journalists working in the affected areas began to inform us that the local people had no idea how to deal with damaged photographs. Responding to their urgent needs, on March 24 we added a section to our website called "How to treat photographs exposed to muddy water."The manual was based upon our experiences during the record-breaking rainfall in the Tokai Region that had occurred 11 years earlier; however we could only address how to clean photographs that had been soaked by rainwater.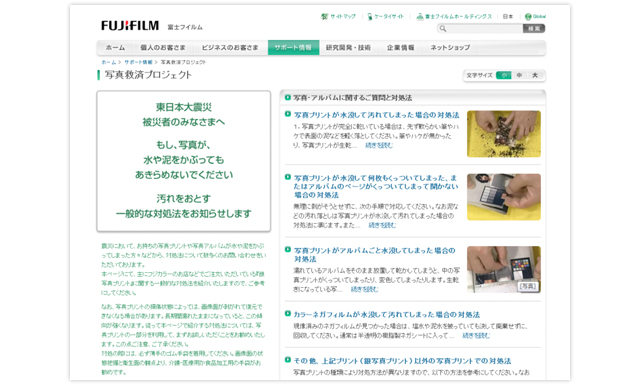 It was imperative for Fujifilm to examine the effect of such damage. We brought seawater to our Kanagawa Factory Ashigara Site and created our own muddy water to conduct experiments to see how different print types and storage methods influenced the amount of damage. We analyzed more than 60 hypotheses in order to provide the information required to meet the diverse requirements of those in need.

We constantly updated our website as our experiments produced new results, and we began to receive a variety of feedback: "Thank you for such useful information," "Photographs are our treasures," and "I've realized the beauty of gelatin silver prints." The messages acted as encouragement and we later saw other comments online saying that because of the prints, people had been able to keep their memories intact. Such comments further inspired our internal discussions, and we started to become anxious to see the photographs that had been damaged by the tsunami.

To find out the truth, we had to visit the Tohoku Region and see for ourselves.